Enrico De Barbieri: the origins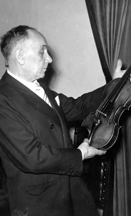 Paolo De Barbieri
(Genoa, 1889 – Genoa, 1962)

Paolo De Barbieri was one of the most important violin-makers of the 20th century and also an esteemed painter. The descendant of an ancient Genoese family with an independent spirit, he set sail as a deck boy on a merchant ship in 1902 and only returned to Genoa in 1908. After joining the Italian Navy, he took part in the famous Dardanelles campaign and received a medal of valor. He was also decorated for his heroic acts during World War I. After the war, he became an apprentice to violin-maker Cesare Candi and in 1919 he opened his own artisan workshop on Piazza Paolo da Novi in Genoa.
During his long and prestigious artistic career, which also included many admired paintings, he received numerous important awards, including the Gold Medal at the 1929 Barcelona International Exposition, a commemorative medal at the 5th Italian Competition of Violin-making of the Reale Accademia Filarmonica Romana in 1929, a Gold Medal in Tampa (Florida) in 1931, a Silver Medal at the Modern Violin-making Competition in celebration of Stradivarius in Cremona in 1948, a Gold Medal at the 3rd Italian Competition of Contemporary Violin-Making in Rome in 1956, and a Gold Medal at the Artisan Show in Florence in 1957.
The Santa Cecilia National Academy nominated him Master Violin-maker hors concours with an autographed letter of the President dated March 12, 1957.
He was the conservator of Paganini's violin called the "Cannone", which Giuseppe Guarneri del Gesù made in 1743 in Cremona and which was preserved in Palazzo Doria-Tursi, the Town Hall of Genoa.
Paolo De Barbieri made nearly six hundred violins, violas, and cellos that were bought by great musicians and collectors from every continent around the globe. In 1960 he honored Genoa and Italy by representing the art of violin-making in Lieges, under the High Patronage of Queen Elisabeth of Belgium.
His son Renato De Barbieri (Genoa 1920 - Trento 1991) was an internationally renowned violinist.
In 2015, following a proposal by the Mayor of Genoa, he was buried in the Pantheon of Staglieno Cemetery (Genoa), alongside Carlo Barabino, Edoardo Maragliano, Aldo Gastaldi and other illustrious citizens of Genoa.