Enrico De Barbieri: The Origins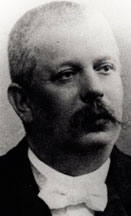 Giovanni Pezzi
(Dercolo 1847 – Mezzolombardo 1907)
Giovanni Pezzi was an industrialist in the Trento region and an illustrious citizen of the town of Mezzolombardo. He established several companies in the area and also set up businesses abroad.
His enlightened vision of the world and respect for labor allowed him to launch and develop important enterprises and businesses: the Trento Winery that employed over one hundred people, a forwarding agency, a wheat, wine and aquavit distributor, a mineral water distributor, and the Italian distributor for the Kraft cement factory in Kufstein (Austria).
An irredentist and philanthropist, Giovanni Pezzi was a member of the Chamber of Commerce in Rovereto for seventeen years and a member of several associations.
He received many awards for his solid, honest entrepreneurial style. The winery won a gold medal in Brussels in 1897, a silver medal in Trieste in 1882, in Kiel in 1894, in Vienna in 1890, and in Bolzano in 1896, and a bronze medal in Vienna in 1894.