Actions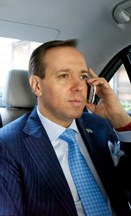 Being accustomed to interacting with people according to the situation and context has led to the creation of a dense network of national and international relations.
Network is a word used today to define every level of interaction between people. From social networks to local ones, each relationship is reduced to a sequence of fleeting moments.
There is, however, a unique network, that is the result of a natural selection, with relations deriving from history and fueled by competence.
Entrepreneurs, institutions, cooperatives, self-employed professionals, and figures from the worlds of culture and sports can access this network of contacts by sharing its values of fairness, education and determination.
The workgroup is composed of trustworthy people who are able to understand needs, face and handle challenges, and achieve real results.
Legal and tax consultants, market strategists, interpreters, experts in logistics, tourism and hospitality, reliable security professionals, event planners, and copywriters and art directors in advertising.
Launching an international business, developing a local venture, promoting a cultural project, organizing a sports event, analyzing the critical factors of a business and overcoming any obstacle: in the workgroup there is already a solution for everything that respects the fine economic balance between the work involved and its recompense.
Making money is art
and working is art
and good business is the best art.
Andy Warhol