About me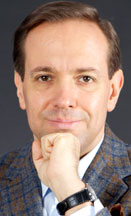 The son and grandson of musicians, Enrico De Barbieri is the descendant of generations of entrepreneurs and politicians. Raised in a cosmopolitan environment rich in values, he is accustomed to relating to people from different walks of life and cultures and is naturally interested in learning about and understanding many aspects of past and present. Always looking to the future, Enrico De Barbieri works to develop good ideas and honest human resources.
Professional career
Since 2018
Genoa Global Ambassador.
2017
Cesar Onlus Honorary Founder (Concesio, BS).
Since 2016
Secretary General Affairs and Representation of International Cultural Movement "Croce Reale-Rinnovamento nella Tradizione" (
www.crocereale.it
).
Honorary President of the MABOTA Association and the Genoa-Africa Association.
Since 2015
Since 2014
Advisor for South Africa and SADC countries of the La Spezia Chamber of Commerce (
www.sp.camcom.it
).
Vice President of the Interdisciplinary Professionals Association [A.L.P.ID.] (
www.alpid.it
), appointed to the Foreign and External Relations.
Professional member FERPI - Federazione Relazioni Pubbliche Italiana (
www.ferpi.it
).
Since 2009
Mediator in corporate internationalization processes and new market development, in particular regarding sub-Saharan countries in Africa and all new economy areas.
Leading companies for tax consulting, auditing, and accounting
Since 2007
Founding member of the Italy-South Africa Association, Vice President up until 2010 and currently President.
Since 2003
Honorary consul of the Republic of South Africa in Genoa.
2001
President of the committee promoting the celebrations for the 10th anniversary of the death of violinist Renato De Barbieri held in Trento under the aegis of the President of Italy and with the endorsement of the Italian Senate, House of Representatives, and Office of the Prime Minister.
From 1995 to 2009
Financial and insurance consultant for
CARIGE Bank S.p.A.
, a leading financial, banking, and insurance group in Italy. (
www.gruppocarige.it
)
From 1990 to 1994
Consulente assicurativo per conto di Assicurazioni Generali S.p.A. e per conto di altre primarie compagnie assicuratrici italiane.
Dal 1985 al 1991
Manager of the family agricultural business in the Trentino region and a manager of the Santa Chiara Academy, established in 1971 by Cardinal Giuseppe Siri.
Personal Information
Born in Genoa on October 5, 1966. Italian nationality.

Good written and spoken English.
Knowledge of French and German.

Owns a personal library of approximately 3,000 books and a large music and film collection.

Served with the Carabinieri in Rovereto (Trento) during mandatory military service and is currently a regular member of the National Carabinieri Association.

Nominated Knight of the Equestrian Order of the Holy Sepulchre of Jerusalem.
Member of the Rotary Club Portofino.
Founder and President of the Renato and Mariangiola De Barbieri Cultural and Charity Association.
Vice-President and international coordinator of the PeaceWaves Association.
A regular member of Circolo Artistico Tunnel, established in Genoa in 1891.
Member of the Rapallo Golf and Tennis Club.
Rather than a 'grand' family, we're a large one. We're what demographers call families with a high fertility rate. (…)
It all began with my grandfather and grandmother, and today we're more than a hundred. (…)
The family is extremely important to me, as it is to all Italians.
It's at the heart of everything.
Gianni Agnelli